You are here
SMA's Director, Legal Affairs serves as deputy chair of the 37th ITSO Assembly of Parties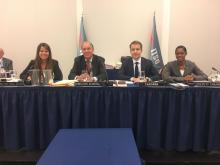 Jamaica, 20 October 2016 - The International Telecommunications Satellite Organization's (ITSO's) 37th Assembly of Parties meeting was recently held from October 12-14, 2016. The event was hosted by the American University Washington College of Law.
Delegates from ITSO's 149 member states, inclusive of Ministers, Ambassadors, and other prominent government officials, came together to make decisions about the organization's future actions, dealing with issues such as ITSO's financial matters, policy goals, and long term objectives. This Assembly of Parties was especially important because, in addition to the usual matters of interest, it elected the new Director General of ITSO, Mr. Patrick Masambu of Uganda.
The Assembly was chaired by H.E. Minister Nikolay Nikiforov from the Party of Russia, and Ida Gaye-Warburton from the Party of Jamaica, the SMA's Director, Legal Affairs, served as deputy chair. 
###
The International Telecommunications Satellite Organization (ITSO) is an intergovernmental organization based in Washington, DC. Previously known as "INTELSAT", the organization was established in 1973 and restructured in 2001, resulting in the creation of a private entity, Intelsat, Ltd (Now called Intelsat S.A.).
ITSO's mission is to:
Ensure the performance of Core Principles for the provision of international public telecommunications services, with high reliability and quality;
Promote international public telecommunications services to meet the needs of the information and communication society; and
Protect the ITSO Parties' Common Heritage.
For more information, visit www.itso.int.